Location: Architekturzentrum Wien - Podium
Workshop: Saturday 13 October 2012, 3pm
Tickets: Sold Out !

We are all familiar with the wooden farmhouses in Austria, but can people also build with wood in Vienna? And why should people do it? Can a skyscraper be built of wood? What is important when building with wood? And don't wooden houses catch fire very easily? Our expert, the architect Michael Schluder, who is currently constructing the biggest timber buiding in Austria, shows us all the things you can do with wood. This is followed by experiments for us to do ourselves.

Sold Out!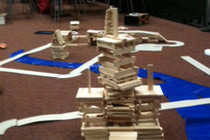 © Az W


Archikids: Building with Wood