Location: Austrian Film Museum
Workshop: Saturday 13 September 2008, 3pm - 5pm
Tickets: EUR 3,50 / small partner free of charge

In cooperation with the Austrian Film Museum (ages 6+)

Architecture and the cinema — a positive dynamic interaction in a glimpse behind the scenes of the Austrian Film Museum shows us how cinema functions. Together we analyse film as a raw material for building, and look at examples of imaginative architecture that could only be created on the screen. We follow this up by completing our own film set at the Architekturzentrum Wien, and finally bringing it to life with a webcam.

Meeting point: Austrian Film Museum, 1 Augustinerstrasse, 1010 Vienna

Reservations: 01-522 31 15 or office@azw.at


ARCHIKIDS – Ask at the Az W
Everything you've ever wanted to know about architecture.
Architecture for the whole family!

Every 2nd Saturday in the month is a fixture on the programme for inquisitive Archikids (aged 6 and over). Find out everything you've ever wanted to know about architecture on this expedition into the built environment. The programme is designed to be equally appealing to your parents, grandparents, aunts or uncles.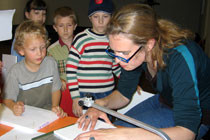 © Az W


Archikids: The Role of Architecture (Roll of Film)

Information:
Lisa Kusebauch-Kaiser
Tel.: +43 (1) 522 31 15
Fax: +43 (1) 522 31 17
Email: office@azw.at