256 pages, approx 400 ill., b/w
Language: English / German
Publisher: Springer, WienNewYork, 2001, Vienna
Author: Otto Kapfinger
Editor: Architekturzentrum Wien
ISBN ISSN 1437-7438, ISBN ISBN 3-211-83640-2

Emerging Architecture represents an annual inquiry into current positions in Austrian architecture. The series deals with buildings and projects elaborated by teams who develop autonomous ideas and translate their concepts into buildings that are either already given expert attention or yet to make a more comprehensive and international appeal.

Emerging Architecture provides an editorial platform to this end, alongside a network linking up with the European scene by means of touring exhibitions and lecture tours attended to by Architekturzentrum Wien.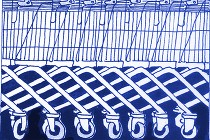 © Az W