256 pages, approx. 160 ill., b/w, English / German
Springer, WienNewYork, 2000, Wien
author: Otto Kapfinger
editors: Architektur Zentrum Wien
ISBN ISSN 1437-7438, ISBN ISBN 3-211-83307-2

Emerging Architecture provides an editorial platform for pioneering work. Emerging Architecture will present topical developments in Austrian building design and, occasionally, examples of forward-thinking practices from neighboring nations.

Each year a new volume in this series will be published and accompanied by an exhibition at the Architektur Zentrum Wien. The focus is on young architectural offices whose built work embodies new and independent concepts that reach beyond the local discourse.

Emerging architecture will be evaluated on its solutions for social issues, those of type and energy consumption. The characteristics lie in well-founded, innovative and self-sufficient perspectives which can also be understood as more than mere regional impulses.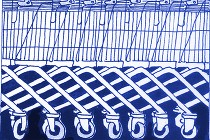 © Az W