Summer Sale
-60%
€ 71,00
€ 28,40

256 pages, 310, german / english
Springer Wien New York, 2000, Vienna
author: Otto Kapfinger
editors: Architektur Zentrum Wien
ISBN 3-211-82725-0, ISBN 3-211-83070-7

Klaus Kada is today one of the most renowned Austrian architects of international repute. Hisbuildings are a continuation of both precise contextual analysis and dynamic spatial concepts, technological innovation and poetic detail.

His work includes such diverse assignments as the Glas Museum in Bärnbach, the Institute of Plant Physiology in Graz, the new Festival Hall in St. Pölten, the European Academy in Bolzano, as well as outstanding industrial buildings, housing estates and villas. Lucidity of plan structure, space and movement, extending beyond a purely technical transparency, is his maxim.

The path that led him out of the sphere of the so-called 'Grazer Schule' is documented here for the first time in a comprehensive analysis of his work.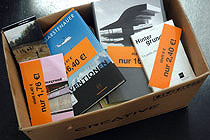 © David Aykler