Summer Sale
- 60 %
€ 40,09
€ 16,04

272 pages, 200 b/w, 210 c, German / English
Birkhäuser Basel. Boston. Berlin, 1994, Basel
editors: Architektur Zentrum Wien
ISBN 3-7643-5110-1 (Basel), ISBN 3-8176-5110-1 (Boston)
Catalogue documenting the 3rd + 4th Vienna Architecture Seminar

This catalogue, which is more than 'only' a report on projects set up during the Vienna Architecture Seminars, comprises lectures on the positions of fourteen excellent European architects, complemented by theoretical contributions on the future and the development of the city. It is a presentation of contemporary European urban concepts developed around the location and body of this city.

Contributions by:

-Dietmar Steiner, Vienna
-William Alsop, London
-Wiel Arets, Heerlen
-Kees Christiaanse, Rotterdam
-Peter Clash, London
-Roger Diener / Jens Erb / Dieter Righetti, Basel
-João Luis Carrilho da Graça, Lisbon
-Janez Kozely / Ales Vodopivec, Ljubljana
-Christoph Langhof, Berlin
-Ueli Marbach / Arthur Rüegg, Zürich
-Yves Lion, Paris
-Enric Miralles, Barcelona
-Christos Papoulias, Athens
-Boris Podrecca, Vienna
-Helmut Richter, Vienna
and by more than 200 students.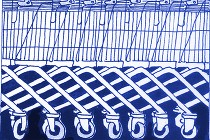 © Az W