Az W on site - scheduled dates
For individuals scheduled tours are offered on selected dates.

Az W Tours – for groups on demand
Our extensive programme of Az W Tours includes suggestions for walks, routes using public transportation, as well as bus trips. If required guided tours tailored to the specific needs of groups can be organized and booked at any time.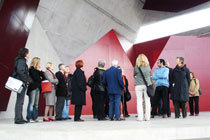 © Az W