Bogdan Bogdanović:
"Absolutely necessary"

Peter Schmid, Eindhoven University of Technology, NL:
"What is Austrian culture without an Austrian architecture museum?"

Klaus Wolfinger, Kallco Bauträger:
"In its first few years the Az W succeeded in doing fascinating work with very little floor space at its disposal. The successive spread into several new spaces within the MQ was a logical consequence of the ever broader range of services provided by this top institution. The increased status of having more space does not only bring with it organisational disadvantages, I am sure, but it is also a disadvantage where public awareness or accessibility are concerned. The Semper Depot space is currently far too seldom made accessible to the public and would, after all, provide an ideal setting for the Az W. On comparing the premises of architecture museums internationally one sees how important it is to be proactive — Austria owes its Az W a suitable arena for its activities."

Rudolf Svoboda, Svoboda Büromöbel:
"The Az W is a key point of crystallisation for the Austrian architecture scene. It is very effective in helping to bring architecture closer to people who are not necessarily directly involved with it. Guided tours by developers and the people involved in the projects, excursions with a focus on architecture."

Gunther Wawrik, architect:
"The Semper Depot is a wonderful and unique ambience for an Austrian Museum of Architecture, a location that would be the envy of the whole world. There are no arguments that do not entirely support the idea."

Peter Fattinger, Vienna University of Technology:
"An extensive museum at the Semper Depot would not only be a magnificent enrichment for the City of Vienna but, above all, also a valuable key facility with innumerable synergetic effects in the immediate vicinity of both the Vienna University of Technology and the Academy."

Margarethe Cufer, architect:
"simply the best"

Winfried Kallinger, Kallco Bauträger:
"The Az W has become established as a key factor in the awareness of, education on and documentation of architecture. Its reputation reaches far beyond the borders of Austria, and its role in the worldwide dissemination of Austrian architecture should not be underestimated. For the Az W the Semper Depot would provide a unique opportunity to combine the contents and mandate of the Az W with an incredibly well-suited location. This is a chance to be grabbed!"

Martin Kohlbauer, architect:
"simply indispensible"

Friedrich Kurrent, architect:
"The decades of yearning for the realisation of an architecture museum in Vienna represents an obligation. The Semper Depot is the ideal location for it."

Doris Lippitsch, City Magazin für Architektur und Urbanes:
"The head of the Az W, Dietmar Steiner, and his team do an excellent job. An Austrian museum of architecture with appealing exhibition possibilities has been sorely missing — as have building culture and architecture in the Austrian museum landscape."

Josef Frühwirth, WFB Baumanagement und Bauträger GmbH:
"a must!"

Franz J. Kaiser, Beratung Kaiser:
"Thank you for existing! I've been coming for years with great pleasure. You're simply (most) crucial"

Hilde Brunner, Bökwe:
"absolutely necessary; the Semper Depot's very well suited, better than for students' studios"

Christof Lackner, photographer:
"Architecture impacts on our lives like hardly anything else — making an academic and museum standard presentation and the promotion of the cultural significance of architecture indispensible."

Karlheinz Preiml, Möbelwerk Svoboda:
"Architecture = Culture, the promotion of culture makes progress possible"

Helga Mayer, ÖSW Österreichisches Siedlungswerk:
"a must"

Markus Spiegelfeld, Werkstatt Wien:
"building culture - tradition + the future is a key facet of our country! The Semper Depot, an ideal location!!"

Simon Speigner, sps-architekten:
"a worthy location for building culture — I know the premises, I could imagine it would be ideal! …With combined strength — resolve can often move mountains."

Franz Sam, architect:
"every bit as necessary as the development of an awareness of quality architecture"

Robert Schaar, Vienna DC Bauträger:
"a long overdue cultural facility"

Eveline Wiebach, Liga: graphic design:
"it's long been both necessary and desirable"

Stefan Ryndler:
"Out-Standing Idea"

Gurdrun Kaitna-Engel, archbüro/Institut für Strukturellen Humor:
"YES"

Walter Schöpf, Projekt Canzlei:
"It'd be a shame about the present library"

Maria Auböck, Atelier Auböck + Kárász:
"The Austrian Museum of Architecture is essential, it will document the future of architecture in the country."

Herbert Ablinger, Ablinger, Vedral & Partner ZT GmbH:
"Perhaps a number of visitors will be kissed by the muse in the museum. The art of architecture needs greater public awareness."

Peter Bleier, Architekt/Hofrat:
"It's time for a museum, that does not only show the exceptional role played by Austria in the development of modern architecture but also shows the excellent work of contemporary Austrian architects at home and in other countries."

Jürgen Berner, architect:
"The distinctive Semper Depot building situated close to the inner city is a worthy venue for presentations, especially presentations of Austrian architectural achievements."

Wilfried Braumüller, University of Applied Arts Vienna:
"Highly necessary!"

Peter Cachola, Deutsches Architekturmuseum:
"I wish our neighbours every success — and look forward to collaborating in the future!"

Jakob Dunkl, querkraft architekten:
"Architecture is an expression of society."

Hugo Dworzak, Architekturwerkstatt:
"It would be almost impossible to find another location as well suited for the museum of architecture — it's an absolutely magical place."

Peter Fleissner, Kabelwerk Bauträger:
"Alongside the outstanding activities of the Az W, the realisation of an architecture museum at the Semper Depot would be a key step in further improving information on the internationally highly acknowledged domestic architecture scene."

Walter Gebert:
"A first rate cultural facility!"

Michael Gehbauer, Wohnbauvereinigung für Privatangestellte:
"An architecture museum is indispensible for the documentation of the history of culture in Austria."

Edgar Göth:
"Super"
Kaye Geipel, Bauwelt:
"I expect the Architekturzentrum Wien to provide a counter-model to the cumbersome Cité de l'architecture in Paris."

Chien-Hao Hsu:
"The right project!"

HOLODECK architekten:
"An 'active' architecture museum with statements on current architecture and with contributions to the architecture debate of the present."

Ruth Hanisch, Dortmund University:
"A missed opportunity so far, hopefully that'll change soon!

Alexander Horwath, Austrian Film Museum:
"The timing is right. And so is the location."

Ernst Hildebrand, architect:
"An excellent opportunity!"

Hans Kalkmann, Kunstverein Bad Saldetfurth:
"With the realisation of this project the European architecture scene would experience a major enrichment, even if more often only observed from afar, and one that would have a positive impact on the design of spaces!"

Dieter Koll, architect:
"Overdue!"

Rainer Köberl:
"The only question that arises: How, at a new location — the wonderful spaces between thick walls — can a public zone for encounters (the café) be created. Where one IDEALLY (difficult) goes as readily as (formerly) to the UNA. Perhaps it needs a section removed somewhere (not at the ground floor corner), an Aus-Schnitt."

Sonja Klingberg, architect:
"The necessity for this museum is obvious and requires no further comment. Good luck to the initiators!"

Franz Kiener, architect:
"Quite simply necessary!"

Erwin Krexhammer:
"The location would be really ideal!"

Eberhard Kraigher, chairman of the advisory board for the culture of building, Carinthian culture committee:
"It is what's really missing!"

Franz Knauer, architect:
"Necessary!"

Rochus Kahr:
"Architecture needs more publicity."

Annemarie Kocourek:
"A genuine asset for the Austrian museum landscape."

Lilli Licka, Kose&Licka Landschaftsarchitektur:
"In my opinion this architecture museum is needed."

Nikolaus Lehner, lawyer:
"This is an ultimatum, and should have been met long ago"

Franz Lang:
"Urgently required, and very well housed in the Semper Depot."

Herbert Loidolt, architect:
"A key undertaking, the Az W is a well run operation."

Elisabeth Morawek, Mrin i.R.:
"A museum of architecture provides interesting information on the history of social developments, which are also expressed in the architecture, so making it a key source for studying cultural development."

Georg Mörsch:
"A significant monument, an exemplary renovation, a compatible and sustainable use."

Ljiljana Marinšić:
"I wholeheartedly support the realisation of the Austrian museum of architecture in the Semper Depot."

Christine Mueller-Zarl:
"Plenty of dedication to the mediation of architecture and spatial quality for laypeople, and not just for us architects! Every success!"

Karl Mang, architect:
"A categorical imperative!"

Wolfgang Markowitsch, architect:
"It's very long overdue."

Herbert Murauer, pensioner:
"Very important!!!"

Friedrich Mayer:
"Utterly welcome."

Felix Orsini Rosenberg, architect:
"I remember that they wanted to demolish the Semper Depot between 1975 and 1980. At the time it was essentially the österreichische Gesellschaft für Architektur (ÖGFA) that prevented it."

Susa Ohrenstein:
"Institutions like the Architekturzentrum Wien are fabulous. I deeply admire good architecture — unfortunately too little good architecture is realised. This situation can be greatly improved thanks to the Architekturzentrum Wien! Good luck."

Karlheinz Pichler, Kultur-Online:
"The Austrian museum of architecture is for development and documentation."

Otto Pröckl:
"It's urgently needed!"

Peter Pichl:
"High time (in Europe). Grateful for initiative."

Gerhard Praunegger:
"That is what's been missing!"

Edwin Piskernik, architect:
"An architecture museum is an absolute MUST and the Semper Depot an ideal location!"

René Prassé, Semmelrock Ebenseer Baustoffindustrie:
"Long overdue!"

Wolfgang Richter, teacher:
"What do other cities have that Vienna hasn't got? An architecture museum — but none in such a jewel as the Semper Depot!"

Paul Raspotnig:
"Indispensible!"

Herbert Schmitz, Wilkhahn:
"The ideal setting!"

Friedrich Starek:
"A key initiative!"

Otto Steiner:
"Systematic deliberation on the built and stage-managed environment is more crucial now than ever."

Ingo Seidler, University of Michigan:
"High time and the ideal location for it!"

Ansgar Steinhauser, Redaktion Häuser:
"A great building tradition makes a great architecture museum obligatory."

Marianne Schönenberg:
"The appropriate development of the Az W for the coming years/decades, to show Austria's high quality architecture abroad and at home."

Ernst Schagerl:
"No comment necessary."

Franz Sam, architect:
"A museum of architecture can only have a beneficial impact on the attempt to elevate the status of the culture of building in Austria."

Rudolf Schmutz:
"The Semper Depot couldn't be put to better use."

Peter Seyffert, architect:
"Great idea! There's no better location."

Michael Schwarz:
"The initiative is long overdue!"

Helmut Swozilek:
"Much needed!"

Heinz Tesar, architect:
"Badly needed!"

Manfred Tomašek:
"The documentation of architecture as the designed environment over the course of time in one place (= architecture museum) can only be endorsed as firmly as possible."

Norbert Thaler, architect:
"Already long overdue!"

Hilda Uccusić:
"I was a highschool art teacher for 30 years, with a preference for architecture in the subject (architecture, design, environment). Architecture impacts on everybody (passive people, active people, clever people, dumb people). A separate subject would be desirable — also for all types of school (not an optional subject)."

Snezana Veselinovic, architect:
"A museum of architecture is needed in the museum landscape of a city like Vienna, to cover this spectrum too, primarily also as an enhancement for society promoting engagement with the topic."

Wolfgang Windbrechtinger:
"Professor Kurrent has proven many times how significant an architecture museum would be for Vienna! He was and still is right!"

Gerlinde Wurth:
"An ideal location for the architecture museum."

Jörg Wallmüller, Team A Graz:
"Enough 'simpering' — act now!"

Heinz Wondra, architect:
"The best in the sector in Austria!"

Michaela Wein:
"The ideal building for a museum of architecture."

Peter Weinhäupl, Leopold Museum:
"The voice of architecture in Austria!"

Helen Zellweger, Galerie für Haute Couture:
"I think it's terrific!"

Susanne Bauda:
"A wonderful idea! I very much hope that the architecture after 1918 will be provided with sufficient space, and that some still forgotten architects from that time can escape obscurity. In my opinion, references to buildings from this epoch that have been demolished should be maintained. For example, the Arabia Cafe and the pavilion by Oswald Haerdtl. There should be a continually updatable list of endangered buildings (Red List) as the buildings of the interwar period as well as those after 1945 are sadly still neglected even today. Of course, the Nazi period must also be engaged with."

Franz Denk:
"Architecture museum, yes. But why not a new building?"

Roland Gruber, nonconform architektur vor ort:
"Absolutely right. Tomorrow's heritage — a key future tourist attraction!"

Otto Häuselmayer, Architekt:
"Housing the complex and running an Austrian architecture museum in the Semper Depot is an essential undertaking for the documentation, safeguarding and conservation of the high quality architecture of our country."

Gabriel Kacerovsky, archisphere:
"Great!"

Stefan Lüttlle:
"The Az W is a place of expertise and a place where architecture can be experienced. Its impact is not restricted to the public in Austria, it is international. You won't find a comparable institution even in the world respected Berlin museum landscape. Here the engagement with architecture in the Bauhaus-Archiv Berlin and the architecture museum of Berlin University of Technology, to name just a couple, appears very fragmentary. Which is why it is essential to support the work done to date and the ambitions of the Az W: with a comprehensive museum, truly suited to the task of the Az W, the mediation of architecture, to further strengthen its international position."

Ulrich Pfannschmidt:
"I presume that no financial obligations will arise from it!"

Eva Rubin, Architektin:
"An indispensible facility for Vienna's standing as a city of culture, especially in a European context."

Robert Stalla, TU Wien:
"It must go ahead!"

Sabine Thiel-Siling, STS architecture in print:
"GREAT! INFORMATIVE! STIMULATING!"

Robert J. Wolfgring, Konsulent:
"If we regard architecture as the physical manifestation of the spirit of its epoch, then a city like Vienna can, then a city with that past, must document evidence of the culture of building of earlier epochs, and conserve this heritage for the future even if the spirit of days gone by has fallen into obscurity."

xxx

Auböck Carl, architect:
"The Austrian architecture museum is a must."

Baar-Baarenfels Johannes, architect:
"It's imperative that you do it!"

Beck Peter, architect:
"Necessity — cultural contribution — representing the social context — events in the building sector yesterday, today and tomorrow — economic significance "

Begović Saša:
"I am a wholehearted supporter of the initiative for the realization of an Austrian architecture museum in the Semper Depot. I think that this idea will continue the remarkable efforts done by the Az W in recent years, establishing itself as one of the most prominent institutions not only in Austria and Europe but in the world. Being a frequent visitor and regular participant, I think this initiative is a necessary next step in the development and expansion, and also better positioning of Austrian architecture."

Bleier Peter, Vienna University of Technology:
"It's a disgrace that it doesn't already exist."

Bohatsch Walter, Bohatsch Visual Communication:
"Indispensable!"

Brettschuh Christiane, umRaumimRaum:
"Living donations and estates can only be networked and engaged with professionally there. Not least, it makes it possible to store plans and models properly."

Busquets Joan, GSD Harvard University:
"An architecture museum can enhance the quality of the architecture and urban development, and consequently inspire the life of urban citizens and so create a better future for our community."

Czizek Gustav:
"Housing an architecture centre provides the Semper Depot (former court theatre depot) with a useful, adequate function, at the same time forming an impressive showcase for the architecture of the Ringstrasse era (2nd half of the 19th century)."

de Witt Wim, The Getty Research Institute:
"The Semper-Depot would be perfect for an architecture museum."

del Campo Matias, SPAN:
"It's a must have!"

Dungl Leopold, architect:
"...because Austria's culture of building needs a solid foundation in this form, too."

Dzino Asim, architect:
"As part of the cultural heritage, architecture must be clearly communicated, and of course an architecture museum is part of this. ('Museum' is perhaps not the right expression) Architecture is 'YesterdayTodayTomorrow' or 'HistoryDesignVision'."

Etzersdorfer Ingmar:
"It's now or never!"

Faseth Inge:
"The Az W is enormously important, so it also needs a proper museum!"

Fundneider Gerda, Porsche Inter Auto:
"I think this proposal is exceptionally important! It's time to pay more attention to the subject of architecture, to inform people, to convince them and provide the population with more information! In daily discussions on the subject it is often revealed how little the majority of people engage with the topic even though every one of us is permanently confronted with it and it effects everybody. For a better quality of life!!!"

Gehbauer Michael, Wohnbauvereinigung für Privatangestellte:
"Austrian architecture needs a worthy location."

Giuliani Paul, architect:
"The most beautiful space for an important museum."

Gsteu Johann Georg, architect:
"It would be the best place for an architecture centre!"

Gumpinger Ingrid Isabella, Forschungsinstitut Gesund 2020:
"We simply find the idea super!"

Guth Dieter, Guth GesmbH:
"Very welcome!"

Hahn Christine:
"The choice of location is certainly a good one!"

Hanak Michael:
"The history of Austrian architecture has long needed a fixed location for its dissemination."

Hein Michael A., architect:
"'The best' location for this 'ambitious' and important project."

Hiessberger Ulf, Gohm & Hiessberger Architekten:
"The Semper Depot is an ideal location for an architecture museum!"

Hill Robert G., KPMB Architects:
"The Architekturzentrum Wien plays a critically important role in exhibiting and disseminating ideas about architecture in Western and Central Europe, and I am in full support of their plan to locate a new facility in the Semper Depot."

Hirtl Claudia, Accrue Production:
"20 years and (MORE)? Its realisation is indispensable!"

Hofer Andreas , Department of Urban Design:
"The Semper Depot is an excellent suitable location for a long overdue architecture museum, which every 'Nation of Culture' should have!"

Holzinger Ursula, architect:
"A wonderful space, which would subsequently be permanently accessible to the public. "

Hueber Friedmund, architect:
"The architecture of the transitory, ground-breaking masterpieces achieved needs a museum in order to have a permanent presence! "

Jung Angelika:
"Put it on the list of proposed projects urgently in need of realisation. "

Kastner Harald:
"Keep it up! I'm an enthusiastic Az W-goer!!"

Kiener Franz, architect:
"Organisation for the collection at long last. Of course the collection needs space. A good idea."

King Luise, architect, BDA:
"People who are interested in culture all over the world — not just architects — know what a significant contribution Austria, in particular, has made to the development of European architecture, and continues to make. The country's politicians should appreciate what a treasure they're sitting on — and give it a boost!"

Kislinger Michael:
"Please don't be discouraged, and don't give up. Wishing you every success!"

Köb Edelbert, Mumok:
"A small major power in the field of architecture needs a representative museum."

Kobe Jurij, Atelier Architekti:
"It's important for all of us!"

Kotrba Irene:
"An upgrade for the architecture museum and an improvement to the Semper Depot at the same time. "

Kronthaler Othmar, Hans Lang GesmbH:
"The Semper Depot is the ideal location for the appropriate documentation and presentation of the key significance of Austrian architecture."

Lackner Inkarie:
"A gem of a source for architecture. A refuge for architecture. A collective awareness of architecture. "

Ligeti Vera:
"An imperative!"

Lindner Heinz, architect:
"The culture of building and architecture needs ('exhibition') space!"

Loebell Alexander, architect:
"This unique building would provide the ideal framework for Austria's significant architecture history, but also a platform."

Loidolt Herbert, architect:
"A welcome proposal, and an important one at the best location for it. A 'house museum' on the history and original function of the Semper Depot itself should be devoted an appropriate part of the spatial agenda, e.g. types of floor plan, construction, preceding projects, political confusion... "

Maculan Alexander, Maculan Holding AG:
"An engagement with architecture is an essential element of our culture."

Matousek Josef, formerly of MA19:
"The history, present and future of Austrian architecture and architecture producers could be presented wonderfully in this museum and at this location — a key contribution to the Austrian production of culture in the City of Culture Vienna!"

Maurer Alfred:
"Much needed in our capital city."

Monitzer Erich, Fine Line:
"Architecture needs space."

Müller-Dietrich Ingeborg, architect:
"All of the arguments speak for the new location. "

Ortner Laurids, Ortner & Ortner:
"A world class architecture museum in the Semper Depot."

Pachelo Pedro:
"It's a positive and important cultural contribution to Austrian Architecture, and indeed an important cultural contribution to World Architecture."

Peugeot Fidel, Walking Chair Design:
"I've learned a great deal about the architecture in Austria there."

Pospisil Erich:
"An architecture centre might be a wonderful thing but it's no substitute for a museum!"

Raunicher Albert Peter, Zemler & Raunicher:
"Absolutely essential!"

Schmidt Dietrich W., Universität Stuttgart:
"The globally influential architecture of Austria requires a permanent venue for exhibitions. Different approaches to architecture should also be able to be shown there at the same time. The Semper Depot appears to be a suitable location for this both in semantic terms and spatially."

Seyffert Perter, architect:
"Hopefully it's soon!"

Smekal Hans Dieter, architect:
"It's essential to renovate!"

Smertnig Christian Alexander, Architekturbox:
"In a Country of Culture like Austria architecture should also be rated appropriately. An Austrian museum of architecture would be an essential step in this direction. The Semper Depot is, in addition, an ideal location for it!"

Spraiter Edgar, architect:
"A good location, not far from the Az W, ideal!"

Stanzel Bernd, architect:
"The necessary steps must be taken!"

Treado Douglas Scott, architect:
"Bonne Chance!"

Uccusic Hilda:
"Essential! Architecture should be more strongly anchored in the teaching curriculum."

Vock Michaela:
"The sense in moving the Austrian architecture museum into the Semper Depot is already given in the latter's name. Open for all kinds of architectural intervention."

Vozlic Matej, Atelje Vozlic:
"All the best!"

Wallner Gerhard:
"Very important!"

Weber Thomas, WHO Architekten:
"I'm already looking forward to my first visit there!!"

Wimmer-Repp Elfrid:
"The culture of building is the first visible sign of culture in any space."

Zuk Radoslav, Mc Gill University:
"An important initiative of international significance!"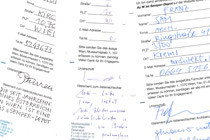 © Az W