Architekturzentrum Wien
The Austrian Museum of Architecture

The Architekturzentrum Wien in the MuseumsQuartier offers a fascinating tour of Austrian architecture from the last 150 years.

From visionary landmarks to insider tips about Vienna, from classics of architectural modernism such as Otto Wagner's Stadtbahn, his Postsparkasse and his apartment buildings on the Linke Wienzeile, from Josef Hoffmann to Joseph Olbrich's Secession on Karlsplatz: the Architekturzentrum Wien presents Austrian architecture that is diverse, modern, unusual and young. Star architects are represented both by their major projects and their often more hidden shop designs.

A building "without eyebrows", the Loos House in the heart of Vienna, stares provocatively at the Hofburg, the old imperial residence, so that the Emperor Franz Josef allegedly had the windows facing towards the new building nailed up. The Gasometers, Vienna's best known architecture monuments, each of which is so large that it could house the Giant Ferris Wheel in the Prater, were given new life by converting them into spectacular apartment buildings. Equally spectacular is the T-Center, a horizontal sky-scraper that presents itself in a dramatic fashion.

On this voyage of discovery you visit the permanent exhibition of the Architekturzentrum Wien (a_schau) and the current special exhibitions, or you can book an Az W city tour and, while strolling through the city accompanied by an expert, you can experience Vienna's architecture through its dialogue between old and new.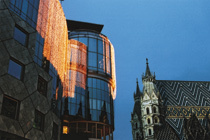 © WienTourismus/Gernard Weinkirn