The Architekturzentrum Wien takes your group by hired bus, subway or on foot to the most striking examples of 20th and 21st century architecture in Vienna and its environs.

If required guided tours tailored to the specific needs of groups can be organized and booked at any time.

Please take a look at our comprehensive list of tours.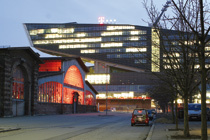 © Rupert Christanell/MA 18