Building visits, bus excursions and theme-based walks are offered for individual persons on selected dates. Az W vor Ort (Az W on Site) allows people a direct encounter with important buildings and their architects, provides a platform for examining current themes at places where they are being addressed, and makes time travel into the complex history of architecture possible.

Upcoming events
Az W on Site: Post at Rochus
Friday 15 September 2017

Here you can find a look-back at already passed tours.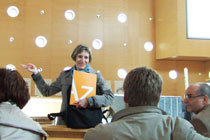 © Az W