Since June 1, 2017 there ist a Library Annual Season Ticket and a Day Ticket, you can get both in the Az W Shop.

Opening hours
Monday, Wednesday and Friday: 10:00 am - 5:30 pm
Saturday and Sunday: 10:00 am - 7:00 pm


More 360° panorama photography ((Pop Up, loads in a few seconds): Library, exhibition, Court of Architecture

One of the services provided by the Architekturzentrum Wien is the public reading library on architecture in the Oktogon.

The library focuses on architecture publications of the 20th and 21st centuries, organised in several categories for monographs, provinces, architecture guides, the history of architecture and architecture theory. The library also includes numerous publications on international and classical modernist architecture.

The collection of books is continually growing and currently includes 32.000 titles with biographies of architects, exhibition catalogues and publications on architecture comprising 13.400 books and 18.600 magazines and journals. The library currently subscribes more than 100 architecture magazines and journals, for browsing on the premises.

Articles and reviews from around the world can be accessed with the aid of the Iconda database and the Avery Index. For the duration of each exhibition organised in-house, the library includes catalogues and a specially compiled reading list enabling visitors to research related themes in more depth.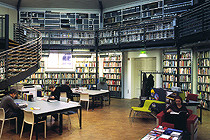 © Pez Hejduk