One of the key tasks of the Architekturzentrum Wien is the targeting of architecture education specially for kids, young people and adults.

The in-house education department develops different forms of activities and a range of architectural education and exhibition information for each show, designed explicitly to cater to the needs of different age groups and interests.


THE ARCHITEKTURZENTRUM WIEN HELPS REFUGEES AND MIGRANTS!
LONGER TERM PROJECTS IN COOPERATION WITH THE INTERNATIONAL ORGANISATION FOR MIGRATION, IOM AND WITH THE AID OF THE AUSTRIAN INTEGRATION FUND, ÖIF

School projects
With its numerous projects in cooperation with schools the educational policy of the Architekturzentrum Wien proactively assumes a pioneering role in the field of architecture.
In the school year 2008/09 a website was conceived by students of the Höhere Graphische Bundeslehr- und Versuchsanstalt to provide a platform which permits a playful but nevertheless highly informative engagement with architecture for pupils, children and young people.
Visit the Website architour.at /a> (in German)

This website is a work in progress, and added depth is to be provided by further cooperative projects in the future.
The orientation for the project is taken from the permanent exhibition 'a_show. Austrian Architecture in the 20th and 21st Centuries' and accordingly provides key background material for everybody who is active in the field of architecture mediation and education.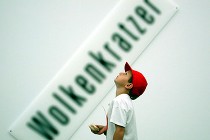 © Az W