Starting from the individual level of experience of the school students, joint discussions, an experimental and sensual hands-on approach, and practical work are the fundamental elements of our educational offers. Working in small groups allows the theme of architecture to be examined in a particularly intensive way.

In the workshops the theoretical contents of the exhibitions are put directly to use and in this way the stimuli acquire a visual form. City expeditions are an important part of the educational program, as architecture is best explored "on site". The school students are integrated through discussions and various tasks such as making sketches, analysing situations, searching for things and playing different roles. If you would like to work with the team of the Architekturzentrum Wien over a longer period, we would be happy to respond to your individual wishes. You can find a number of examples under "Cooperations".

Schools from the Austrian Federal States can book all educational programs in the framework of 'Wien Aktion - Österreichs Jugend lernt die Bundeshauptstadt kennen'.

Cancellations: Please note: reservations are binding. Cancellations made within two days of the workshop are subject to a cancellation fee: 50% of the full price on the day before, 100% for same-day cancellations.

Kindly supported by Kapla and LEGO.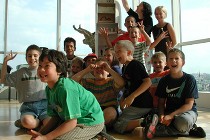 © Az W