The lexicon provides a striking overview of the key information on the individual architects. Alongside their dates of birth and death as well as the locations concerned, the entries also contain information on the architects' family situation, education and careers. Also listed in the entries are society and club memberships, and awards and honours, as such information frequently provides a deeper insight into the personal circumstances of the architect concerned.

Alongside the personal details, the individual stylistic design approach is outlined along with key completed buildings, while exceptional unrealised projects are also named and supplemented with a bibliography.

The aim is to characterise the individual architects before a background of biographical information, and to pay a historical tribute to their architectural achievements.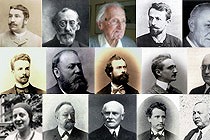 © Az W