Our portable portfolios, or porta-folios, are handy 5.5 by 10 inch ring binders designed as a personal excursion kit for ambitious "architectourists". Since 2002, participants of our sundays architecture tours have found them to be indispensible as accompanying material.

Three project sheets which give comprehensive information about individual buildings are included in each three-sleeved insert and provide short project descriptions, building data, maps, photos and drawings. The porta-folio also has compartments for stowing a city map, postcards, tickets, business cards, etc.

3 new porta-folio combinations, with 9 project descriptions each – thematically and geographically grouped – are now available online.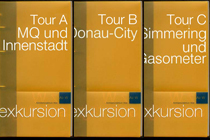 © Az W