The Architekturzentrum Wien was founded as a non-profit society in 1993 on an initiative taken by the Austrian State and the City of Vienna to provide a platform for exhibitions as well as a meeting place and a reliable source of information for all those interested in architecture and the art of building. Since its founding the Architekturzentrum Wien has become a highly respected forum for debate and reflection on architecture and urban development.

In October 2001, after 8 years of being a provisional exhibition facility, the Architekturzentrum Wien moved to significantly larger premises on the site of the former Messepalast, now the MuseumsQuartier. The Architekturzentrum Wien is now able to offer an extensive programme and range of services on an area of 2,000sqm, an appropriate size for an institution that has earned its place among renowned architecture institutions and architecture museums around the world.

Members of the Board:

President: MEP ret. Dr. Hannes Swoboda

Vice President: Dr. Heide Schmidt

DI Dr. Bernd Rießland
Dr. Josef Schmidinger
Dr. Johannes Strohmayer
DI Thomas Madreiter
Dr. Thomas Höhne
Mag. Elisabeth Mayerhofer, MBA

Since its opening in 1993 the Architekturzentrum Wien has not only successfully established itself as the number one address for architecture in Austria but has even gone on to develop into the only architecture museum in the country, all in a context of increasing public interest in architecture. The permanent exhibition 'a_show. Austrian Architecture in the 20th and 21st Centuries' presents the history of architecture in this country from 1850 for the first time in one show – and aptly showcases the Az W as a centre for knowledge on architecture.

The Architekturzentrum Wien has a special focus on the architecture of the 20th and 21st centuries. Several major exhibitions per year as well as smaller productions present the full stimulating diversity of contemporary architecture, providing new views of both the history of architecture and developments to come. Alongside scheduled exhibitions, a series of specially developed event formats communicate architecture as a cultural discipline, an everyday phenomenon and as complex processes.

Regular talks on work and panel discussions, guided tours on architecture and workshops for children, publications and the annual Wiener Architektur Kongress show the breadth of the spectrum of the Az W's activities – bridging the gap between architecture as a specialist topic for a few experts, and architecture as the design of living space and so a subject that is of relevance to many.

Numerous cooperations with partners from the cultural, commercial or political arenas make the Architekturzentrum Wien a significant interface in the mediation of a broad understanding of architecture.

As a centre dedicated to architecture, the Az W provides a broad professional service for everybody interested in architecture and the art of building. Among the services that we provide are our specialised library, the comprehensive online database, the buidling database 'Architektur Archiv Austria', the Encyclopaedia of Architects as the in-house archives and collection – the documentation and research department of the Az W.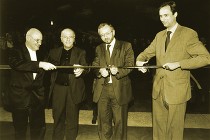 © Pez Hejduk